Earlier this week, the international governing body of soccer/football (depending on where you're from), FIFA, announced its annual World XI, a selection of eleven players the federation felt performed at the highest level throughout the calendar year. This year's team raised some eyebrows with several controversial choices, most notably Barcelona's Iniesta, Xavi, and Dani Alves, as well as Real Madrid center back Sergio Ramos. These picks seemed to be based off prestige than actual performance, as many (myself included) felt that none of these players were the best in their positions in 2013. Today, I'll be offering my choices for 2013's best players. For practical purposes, I'll be sticking with the 4-3-3 formation FIFA used.
If you wish, you can view FIFA's official squad by clicking
here
.
Goalkeeper:
Manuel Neuer (Bayern Munich, Germany)
My choice for the year's best keeper lines up with FIFA's, as German goalie Manuel Neuer earns the nod. A courageously aggressive and stunningly precise goalkeeper, standing in net for the undisputed top dogs of 2013, Bayern Munich. He played a pivotal role in leading the Bundesliga side to a remarkable five trophies in 2013, as the squad were crowned champions of Europe as they ran away with the league title. The second half of the year was just as kind to Neuer, as Munich look set to once again finish atop the Bundesliga and have a good chance at repeating as Champions League winners. Crucial saves in last year's UCL final against league rivals Borussia Dortmund made the difference for Bayern, with Dortmund only managing to put one past the 6'4" Neuer with a penalty kick. Bayern Munich's 2013 was one of the best years for a single club in recent memory, and Neuer is a big reason why the team was so successful.
Honorable mentions: Thibaut Courtois, David De Gea, Hugo Lloris
Right Back:
Philipp Lahm (Bayern Munich, Germany)
While much credit for Bayern's great year should be given to Manuel Neuer, club captain and defensive anchor Philipp Lahm is just as deserving of praise. The right back is an expert tackler, possessing the ability to put the world's best in his back pocket. He's also excellent going forward, thanks to great dribbling skills and solid passing and shooting. His versatility is shown by the fact that he has played much of 2013 as a defensive midfielder when Bayern were struck with injuries. Lahm's leadership shouldn't be underestimated either, as he acts as skipper for both club and country. The German national team was undefeated in the group stage of world cup qualifying, Lahm being a big part of that success. No other fullback in the world combined defensive ability with attacking skills quite as well as Lahm did in 2013, which is why he makes my (and FIFA's) team.
Honorable mentions: Lukasz Piszcek, Dani Alves, Pablo Zabaleta
Center Back: Thiago Silva (Paris Saint-Germain, Brazil)
Thiago Silva has everything you could ask for in a center back: strength, good anticipation, superb tackling, speed, and heading ability. The Brazilian captained his side to victory in his home country at this summer's Confederations Cup, playing great defense in games against Italy, Uruguay, and reigning world champs Spain. He also helped PSG to the Ligue 1 title in a landslide, with the Parisian club holding a comfortable twelve points over runners-up Marseille. Paris Saint-Germain have started the new season in fine form as well, currently sitting in first place. Silva's contribution in defense in 2013 was the best in the world, as seen by his nomination for the Ballon d'Or, confirming him as the sport's most complete center back.
Center Back: Dante (Bayern Munich, Brazil)
My first selection to stray from FIFA's lineup, Dante becomes the third Bayern player in my World XI. It's hard to argue against Bayern's defensive stats in 2013, and Dante was the team's best center back. This choice was the hardest for me to make, with plenty of defenders seeming worthy of recognition. FIFA's choice, Real Madrid's Sergio Ramos, was great but not spectacular. Vincent Kompany played well for Belgium and Manchester City when healthy, which unfortunately was not often enough. Mats Hummels helped Borussia Dortmund to runners up in the Bundesliga and Europe, but Bayern's success gives Dante the edge over him. Plus, bonus points for the afro.
Honorable mentions: Vincent Kompany, Mats Hummels, Sergio Ramos, Gerard Pique, Andrea Barzagli, Giorgio Chiellini, Jan Vertonghen
Left Back: David Alaba (Bayern Munich, Austria)
The Bayern defenders just keep coming, don't they? As much as I would love to put Everton left back Leighton Baines into my World XI, as he is my favorite player, he did not help his side to as much success as Alaba did in 2013. The young Austrian fullback excelled both going forward and playing defense, using pace, vision, and a wicked left foot to form a formidable left-side partnership with teammate Franck Ribery. Like fellow Munich fullback Philipp Lahm, Alaba spent some time this year in midfield, showcasing his multiple talents. Already one of the world's best at just twenty-one, he looks to have a long, prolific career ahead of him.
Honorable mention: Leighton Baines
Midfield: Franck Ribery (Bayern Munich, France)
If you though Bayern were only good because of their defenders, you were mistaken. Creative wideman Franck Ribery used near-perfect dribbling, precise passing, and extreme agility to create chance after chance, scoring a few of his own along the way. Ribery's biggest moment of 2013 was his back-heeled pass that set up Arjen Robben's game-winning goal in the Champions League final with a minute left in regulation. The visionary left midfielder led many of 2013's best team's attacks, and thus earns a spot in my world XI.
Midfield: Bastian Schweinsteiger (Bayern Munich, Germany)
Last one, I promise! The final Bayern Munich player in my team of the year was inexplicable snubbed by FIFA, who instead chose Barcelona duo Xavi and Iniesta as the other midfielders alongside the aforementioned Franck Ribery. Schweinsteiger was, for lack of a better word, a beast in 2013. His strength, coupled with passing and defending abilities, made him a force to be reckoned with in central midfield. Crucial transitional play was spearheaded by the German. One of the most techinically gifted midfielders on Earth, and possessing one of the most fun names to say ever, Bastian Schweinsteiger certainly deserved a spot in this year's world eleven.
Midfield: Arturo Vidal (Juventus, Chile)
The best player in Serie A, Arturo Vidal does everything, and does it exquisitely. This guy can score goals, pick out passes, and stop attacks with the best of them. Seemingly tireless, Vidal pushes up and down the field with great energy and quickness, providing opponents with a huge problem. He led Juve to the Serie A title early this year and helping Chilie qualify for its second consecutive World Cup. The prime example of a box-to-box midfielder today, Arturo Vidal grabs the third and final midfield spot in my 2013 TOTY.
Honorable mentions: Yaya Toure, Eden Hazard, Andres Iniesta, Marco Reus, Ilkay Gundogan, Andrea Pirlo, Xavi, Thomas Muller
Forward: Cristiano Ronaldo (Real Madrid, Portugal)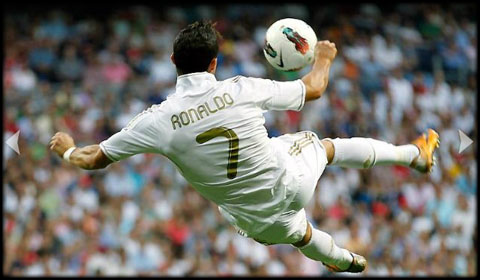 You knew this was coming. Simply put, Ronaldo was the best player in the world in 2013. With Lionel Messi spending the late weeks of the year on the injured list, the Ballon d'Or was Ronaldo's to lose. Though Madrid failed to capture either the La Liga or Champions League trophy last year, the prolific winger shone, scoring goal after goal after goal. His best showing came in Portugal's two-leg playoff against Sweden for a spot in this summer's upcoming World Cup, where he scored four goals, including a hat-trick in the second game, to earn Portugal's place in Brazil. Though I still feel Messi is the better player, it's hard to deny that Cristiano Ronaldo was the best player of 2013.
Forward: Lionel Messi (Barcelona, Argentina)
Despite missing a good portion of 2013 with hamstring issues, Lionel Messi still did enough to warrant this selection via his continually stunning performances. Barcelona's 2012-2013 La Liga-title-winning campaign relied heavily on the shoulders of the Argentinian. In April he became the first player to ever score in consecutive games against every La Liga side in history. Argentina qualified for the world cup partially thanks to Messi, who netted three goals for his national side in 2013. The fact that Messi can justifiably make this squad and be nominated for the Ballon d'Or despite his injury troubles speaks volumes about his ability as an athlete and his importance to his domestic side.
Forward: Luis Suarez (Liverpool, Uruguay)
As a die-hard Everton fan, this is very hard for me. You might even say that it
bites
;). Picking the FIFA-chosen Zlatan Ibrahimovic here would've been the safe, easy pick, but it would not have reflected my true feelings on who performed best in the beautiful game in 2013. My love for Everton and burning hatred for Liverpool does not make me blind to the fact that striker Luis Suarez had a stellar year (when he wasn't suspended, of course). Suarez's goal tally in 2013 is insane, especially considering he missed ten games with a suspension for chomping on Branislav Ivanovic's shoulder during a heated match against Chelsea. He had nineteen goals in fourteen matches to start this Premier League campaign, combining with Daniel Sturridge to form the BPL's most terrifying striking duo. Suarez likely would've lead the league in goals last season were it not for his suspension. He almost left Liverpool in the summer, claiming that he was sick of being scrutinized by the English media. Liverpool fans should be glad he stayed, as he is the main reason the club have a legitimate chance at finishing top four in the BPL and thus qualifying for the UEFA Champions League. Uruguay certainly benefited from his presence as well, though they required a playoff victory against Jordan in order to squeak into the World Cup. Love him or hate him (and you probably hate him), Luis Suarez had a magnificent season statistically in 2013, and I honestly believe him to deserve a spot in my team of the year. And that's coming from an Everton fan.
Honorable mentions: Zlatan Ibrahimovic, Robin Van Persie, Sergio Aguero, Gareth Bale, Robert Lewandowski, Diego Costa, Neymar, Antonio Di Natale, Carlos Tevez, Mario Balotelli